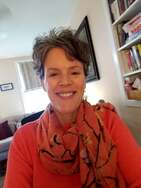 Meredith is the owner of Frederick Therapy, LLC, a thriving private practice which she has operated since 2008. Her specialty is sex therapy working with relationships of all kinds: monogamous, polyamorous, LGBTQIA+, and straight. She enjoys working with people in relationship of any kind with narcissists. Prior to working virtually she ran support groups for partners of narcissists. Meredith has a direct and compassionate approach to her work.

Meredith received her BS from Towson University in 1989 with a degree in Psychology. She attended the University of Maryland at Baltimore School of Social Work and Community Planning where she received her Master of Social Work in 1991. She has an extensive background with substance abuse and recovery through both the federal and state probation systems and through a variety of programs at the University of Maryland Hospital. She was a hotline volunteer with the Heartly House, working with victims and survivors of domestic violence. Meredith worked over 6 years volunteering with the Bereavement Team at Hospice of Frederick County, Maryland. While with Hospice she led a variety of bereavement groups, individual counseling and supporting the bereaved.

In her free time, Meredith practices yoga, gardens, swims, runs, knits and enjoys time with her family.